SIRENE er inspireret af de græske mytologiske væsener, der med sang lokker sømænd til at kaste sig i havet. Kun Ulysses formår i følge myten at modstå og overleve Sirenerne ved at give sin besætning voks i ørene og binde sig selv til masten på sit skib. Værket genfortæller ikke myten, men tager afsæt i de psykologiske temaer om ensomhed og længsler, der ikke bliver indfriet og bliver drivkraft og kilden til kreativitet. Forestillingen er blevet fint modtaget af både anmeldere og publikum verden over, og nu er tiden kommet til en dansk opsætning – som også mange danske publikummer har efterlyst. SIRENE har blandt andet modtaget Villanueva-prisen for bedste udenlandske forestilling i Havanna 2018 og har tidligere turneret til New York, Baku, Rom, Athen, Biarritz, Tyskland og Stockholm. Den livestreamede version af forestillingen blev nomineret til Venice TV Award 2021.
★★★★★
"Sirene er en forestilling med teknisk excellence, indlevelse af høj kaliber og et exceptionelt cast."
UNGT TEATERBLOD
★★★★★
"Københavnerne kan glæde sig til at opleve forestillingen live på Teater Republique næste år."
CPH CULTURE
"Sirene er et mesterværk"
LA REPPUBLICA, ITALIEN
CREDITS OG INFORMATIONER
KOREOGRAFI Pontus Lidberg
DANSERE Dansk Danseteater
DRAMATURG Adrian Guo Silver
KOSTUMEDESIGN Karen Young
MUSIK Stefan Levin, Franz Schubert
LYSDESIGN Raphael Frisenvænge Solholm
PROJEKTIONER Jason Carpenter
VARIGHED 1 time uden pause
INTERAKTIVT UNDERVISNINGSMATERIALE Se mere her
ALDER fra 11 år
SIRENE er co-produceret af Dansk Danseteater, Festival Oriente-Occidente og the Stavros Niarchos Foundation Cultural Center, som har bidraget med betydelig støtte gennem Stavros Niarchos Foundation. Forestillingen er støttet af Rockefeller Brothers Fund, SHS Foundation, The Barbro Osher Pro Suecia Foundation, The Evelyn Sharp Foundation, Trust for Mutual Understanding, Vineyard Arts Project, Mid Atlantic Arts Foundation gennem USArtists International med the National Endowment for the Arts, The Andrew W. Mellon Foundation, The Howard Gilman Foundation, og privatdonationer. Musikken er støttet af the Charles and Joan Gross Family Foundation.
PONTUS LIDBERG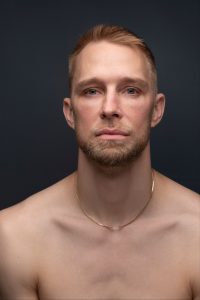 Pontus Lidberg, modtager af John Simon Guggenheim Fellowship (2019), er Dansk Danseteaters kunstneriske leder. Han er en anmelderrost koreograf, en visionær kunstner og filmskaber opvokset i Stockholm, Sverige. Lidberg er uddannet danser ved The Royal Swedish Ballet School og har derudover en MFA i Contemporary Performing Arts fra Göteborgs Universitet. Som koreograf har Lidberg skabt værker til toneangivende ballet– og dansekompagnier, bl.a. New York City Ballet, Paris Opera Ballet, Vienna State Ballet, Martha Graham Dance Company, Les Ballets de Monte-Carlo, Royal Swedish Ballet, Le Ballet du Grand Théâtre de Genève, Balletboyz, Beijing Dance Theatre, Morphoses og sit eget tidligere kompagni 'Pontus Lidberg Dance'. Lidberg er også kendt for sine dansefilm, og værket The Rain modtog adskillige priser. The New York Times beskrev filmen som: "Uforglemmelig. The Rain illustrerer, at dans på film er noget ganske andet end på en scene." Hans film Labyrinth Within vandt "Best picture" på Dance on Camera Festivalen i 2012. Hans seneste film Written on Water har netop haft sin premiere med visninger på International Festival of Films on Art (FIFA) I Canada og Dance on Camera Festivalen i New York samt Cinemateket i København.
TRAILER