Ballet chanté af Kurt Weill og Bertolt Brecht. Digteren Brecht og komponisten Weills samfundssatiriske mesterværk De syv dødssynder forener sang, dans og teaterkunst med toner fra Det Kongelige Kapel. Værket opføres på Operaens Store Scene, hvor Dansk Danseteater og Den Kongelige Opera deler scene med kunstneren Nanna Øland Fabricius aka Oh Land. Forestillingen er en mise-en-scène af Patrick Kinmonth og Pontus Lidberg om grådighed, vrede, nydelsessyge og misundelse til Weills allersmukkeste musik. De Syv Dødssynder er frugten af det stormfulde og epokegørende samarbejde mellem Weill og Brecht i 1920'erne og 1930'erne, hvor teaterkunsten blomstrede i Berlin. I denne satiriske nytolkning forenes Weills musik med ny koreografi af Pontus Lidberg samt iscenesættelse og scenedesign af Patrick Kinmonth. Forestillingen vises sammen med Louise Alenius' verdenspremiere, Manualen. Manualen synges på dansk, og De syv dødssynder synges på tysk med danske overtekster.
CREDITS OG INFORMATIONER
INSTRUKTION Patrick Kinmonth
KOREOGRAFI Pontus Lidberg
MUSIKERE Det Kongelige Kapel
SANGERE Det Kongelige Operakor
DANSERE Dansk Danseteater
DIRIGENT Robert Houssart
SCENOGRAFI Patrick Kinmonth
KOSTUMEDESIGN Patrick Kinmonth
LYSDESIGN Mathias Hersland
MEDVIRKENDE Se det fulde cast på Det Kgl Teaters hjemmeside
VARIGHED 2 timer og 15 minutter inkl. en pause
PONTUS LIDBERG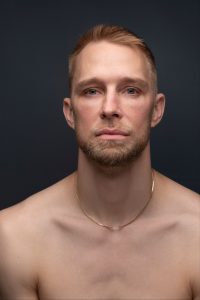 Pontus Lidberg, modtager af John Simon Guggenheim Fellowship (2019), er Dansk Danseteaters kunstneriske leder. Han er en anmelderrost koreograf, en visionær kunstner og filmskaber opvokset i Stockholm, Sverige. Lidberg er uddannet danser ved The Royal Swedish Ballet School og har derudover en MFA i Contemporary Performing Arts fra Göteborgs Universitet. Som koreograf har Lidberg skabt værker til toneangivende ballet– og dansekompagnier, bl.a. New York City Ballet, Paris Opera Ballet, Vienna State Ballet, Martha Graham Dance Company, Les Ballets de Monte-Carlo, Royal Swedish Ballet, Le Ballet du Grand Théâtre de Genève, Balletboyz, Beijing Dance Theatre, Morphoses og sit eget tidligere kompagni 'Pontus Lidberg Dance'. Lidberg er også kendt for sine dansefilm, og værket The Rain modtog adskillige priser. The New York Times beskrev filmen som: "Uforglemmelig. The Rain illustrerer, at dans på film er noget ganske andet end på en scene." Hans film Labyrinth Within vandt "Best picture" på Dance on Camera Festivalen i 2012. Hans seneste film Written on Water har netop haft sin premiere med visninger på International Festival of Films on Art (FIFA) I Canada og Dance on Camera Festivalen i New York samt Cinemateket i København.