A desperate mermaid, women galloping in slow motion, silly songs, and Spanish rhythms by Israeli choreographer Roy Assaf, a master of combining the outlandish with the serious. In his first work for Danish Dance Theatre, we meet several wacky characters in a collage of satirical vignettes, drawn from the artist's wish to create the ultimate and perfect show. Such a task is not always easy. Roy Assaf describes dance as a 'filter' to his own, internal world. His approach to his choreographic practice is intuitive, the work created as an exchange between the dancers and himself. This method is built on mutual trust between the dancers and the choreographer and is crucial to the exchange of creative ideas. Roy Assaf's works are grounded in the theatrical, with a distinct physical expression and sense of empathy. He is one of Israel's most sought-after choreographers with works created for companies including Batsheva Dance Company in Tel Aviv and venues such as Baryshnikov Arts Center in New York, and his Israeli background is key to understanding him as a choreographer. Contemporary dance has flourished in Israel since the 1990s with internationally-renowned choreographers including Ohad Naharin and Itzik Galili, and Roy Assaf has followed hot on their heels. In previous works, he has dealt with difficult topics such as political oppression, gender, war, and discrimination, usually with a humorous twist.
"Add a good helping of glitter and glam, and you have a performance where you can barely stop laughing. And all of it built on a foundation of sublime technique and a dusting of Danish humor. What more do you need?" ★★★★★ UNGT TEATERBLOD
"It's dance satire as if at a comedy show, the audience in a perpetual state of giggles. Danish Dance Theatre's dancers show they have the ability to create kooky characters and deliver a liberatingly absurd humor, which is precisely what we need right now." ★★★★★★ XQ28
"The tightrope act between playfully obscene children's songs, silly jumps, satire, and the debate around sexuality was well-balanced. I sat back sadly with a smile on my lips and in good humor, yet simultaneously with a knot in the pit of my stomach." VINK
"Roy Assaf has gotten the dancers to both sing, and talk a mile a minute, while they put a face to the strange beings in Two Lions and a Castle. Huge shout out to Jessica Lyall, Lucas Threefoot, and the colleagues on the vinyl." SCENEBLOG ★★★★
CREDITS AND INFORMATION
CHOREOGRAPHY Roy Assaf with the participation of the dancers
ARTISTIC ASSOCIATES Ariel Freedman, Avshalom Latucha
LIGHT DESIGN Raphael Frisenvænge Solholm
SET DESIGN Raphael Frisenvænge Solholm & Roy Assaf
COSTUME DESIGN Maria Ipsen & Roy Assaf
MUSIC PRODUCTION, EDITING & SOUND DESIGN Mikkel Larsen, LAK Studios
MUSIC Mikkel Larsen, LAK Studios, Danish folk songs, "Tamechom" by Kristin Bjerkestrand
WORDS Roy Assaf, Jessica Anne Lyall, Ariel Freedman.
TEXTUAL INSPIRATION Ohad Zehavi, "An Invitation to Perform", Bezalel Journal of Visual and Material Culture 1 (2014) Text for "Joe the Mermaid: Emilie Leriche, Lucas Threefoot, Lukas Hartvig-Møller, Edward Pearce, Jessica Anne Lyall, Roy Assaf
FILM TEASER & TRAILER Omid Zarei
DURATION 1 hour without intermission
AGE Recommended from age 11
INTERACTIVE SCHOOL MATERIAL See mere HERE
WITH SUPPORT FROM William Demant Fonden, Beckett Fonden
ROY ASSAF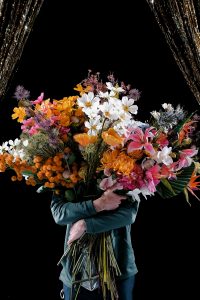 Roy Assaf (b. 1982) was born in Sde Moshe in Southern Israel. He has been dancing and creating as long as he can remember, but only started his formal dance training at the age of sixteen. A few years later, he was recruited for the Israeli defense forces, and completed his national service there. Since 2010, he has created his own works for some of the most renowned playhouses in the world, among them Théâtre National de Chaillot in Paris, Batsheva Dance Company in Tel Aviv, Baryshnikov Arts Center in New York and the Venice Biennale. He has won several awards for his works, among them both the audience and jury prize at the 7th installment of [Re]connaissance danse contemporaine for the piece "The Hill", which was performed at Copenhagen Summer Dance in 2019.
TRAILER