SIREN is named after the mythical creatures who lured sailors with their song, compelling them to throw themselves into the sea. Only Ulysses managed to resist their call, by plugging his crew's ears with wax and tying himself to the mast of his ship. The work considers Ulysses' desire that can never be fulfilled, and the Siren's song as a source of creative impulse. The work does not retell the myth, or any story, but is inspired by its themes of longing, creativity, and, unexpectedly, solitude. Siren received a Villanueva Award from the UNEAC, The National Union of Writers and Artists of Cuba, for one of the best performances presented in Cuba in 2018. The filmed and broadcasted version of the work was nominated for a Venice TV Award 2021.
"Siren has all the features of a masterpiece… A work both delicate and very dense with a feeling of truth, sustained by a rare expressive clarity". LA REPUBBLICA
"Lidberg demonstrated a consolidated expressive maturity and the capacity to transform an initial idea into choreography and a structured and complete piece." IL SOLE 24 ORE
"Very curated and cohesive, with a meticulous attention to the image and with a certain emotional contraction, Siren reveals a personal vision that pours out onto the stage." DEL TEATRO
CREDITS AND INFORMATION
CHOREOGRAPHY Pontus Lidberg
DANCERS Danish Dance Theatre
DRAMATURGE Adrian Guo Silver
COSTUME DESIGN Karen Young
MUSIC Stefan Levin, Franz Schubert
LIGHT DESIGN Raphael Frisenvænge Solholm
PROJECTIONS Jason Carpenter
DURATION 1 hour without intermission
INTERACTIVE SCHOOL MATERIAL can be found here
AGE Recommended from 11 years
SIREN is co-produced with Danish Dance Theatre, Festival Oriente-Occidente and the Stavros Niarchos Foundation Cultural Center through an exclusive grant from the Stavros Niarchos Foundation with support from Rockefeller Brothers Fund, SHS Foundation, The Barbro Osher Pro Suecia Foundation, The Evelyn Sharp Foundation, Trust for Mutual Understanding, Vineyard Arts Project, Mid Atlantic Arts Foundation via USArtists International and the National Endowment for the Arts, The Andrew W. Mellon Foundation, The Howard Gilman Foundation and Private donations. The music is supported by the Charles and Joan Gross Family Foundation
PONTUS LIDBERG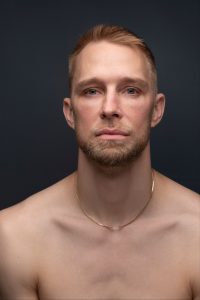 Choreographer, filmmaker, dancer and recipient of a 2019 John Simon Guggenheim Fellowship, Pontus Lidberg has firmly established himself as a creative and visionary artist, merging dance and film. As a choreographer for the stage, Lidberg has created works for dance companies including Paris Opera Ballet, New York City Ballet, Martha Graham Dance Company, Vienna Staatsoper Ballet, Les Ballets de MonteCarlo, Semperoper Ballet Dresden, Royal Swedish Ballet, Royal Danish Ballet, Le Ballet du Grand Théâtre de Genève, Acosta Danza, Balletboyz and Beijing Dance Theatre, as well as for his own concert group, Pontus Lidberg Dance. Pontus Lidberg Dance has been presented by New York City Center's Fall for Dance Festival, the Havana International Ballet Festival, the Spoleto Festival, The Joyce Theater and the National Arts Center of Canada. His work Siren received a Villanueva Award from UNEAC, The National Union of Writers and Artists of Cuba, as one of the best performances presented in Cuba in 2018. His film, The Rain received numerous awards. The New York Times wrote "memorably, The Rain illustrates what filmed dance can say that staged dance cannot." His film Labyrinth Within won Best Picture at the Dance on Camera Festival in 2012. He was nominated for a New York Dance and Performance Award (Bessie) in Outstanding Visual Design, for his dance and film evening WITHIN – created during his 2012 tenure as Resident Artistic Director of Morphoses. The New York Times applauded this contemporary story ballet, "told without mime and driven by emotional and psychological textures… [Lidberg] sublimates the academic language of ballet, dissolving it into knotty partnering that manages, by and large, to avoid the churning clichés of much contemporary movement in the form. It is refreshing to see a ballet embracing the virtues of restraint." Raised in Stockholm, Sweden, Lidberg trained at the Royal Swedish Ballet School. He holds an MFA in Contemporary Performing Arts from the University of Gothenburg, Faculty of Fine, Applied and Performing Arts.
TRAILER