Danish Dance Theatre's dancers and an Artificial Intelligence installation perform Centaur, a thought-provoking new work by the critically acclaimed Artistic Director and choreographer Pontus Lidberg. Centaur is an innovative and ambitious artistic collaboration, presented by Danish Dance Theatre, The Royal Danish Theatre, Festival Oriente Occidente and Théâtre National de Chaillot. Centaur examines the consequences of using artificial intelligence and the power of technology. The title 'Centaur', inspired by the half-horse half-human creature from Greek mythology, is also the name of a computer-science concept that elevates human qualities by combining artificial and human intelligence. Centaur is a high-tech dance performance, developed in collaboration with AI-artist Cecilie Waagner-Falkenstrøm and Ryoji Ikeda, Japan's leading electronic composer and audio-visual artist.
Pontus Lidberg, an internationally established choreographer and filmmaker, is known for his unique, poetic voice. His work opens a world of magical realism, where emotion and the subconscious are among the core elements. In Centaur, he explores what happens when dancers encounter a newly developed artificial intelligence program. Does technology change us, or simply reflect who we have always been? The groundbreaking AI programmed exclusively for the piece, is both co-creator and participant. He influences choreographic composition based on various data sets such as planetary movements, swarm technology and the dancers' movements as tracked and collected throughout the creative process. As a performer, he can simulate consciousness, emotion and intention and interacts with the dancers on stage. This means that each performance is a unique and unpredictable event.  How will the increasing use of AI affect our future? Will artists develop into hybrids – into centaurs?
CREDITS AND INFORMATION
CHOREOGRAPHY Pontus Lidberg
DANCERS Danish Dance Theatre
ARTIFICIAL INTELLIGENCE INSTALLATION Cecilie Waagner Falkenstrøm
AUDIO AND VISUAL DESIGN Ryoji Ikeda
COMPUTER PROGRAMMING FOR VISUALS Tomonaga Tokuyama
LIGHT DESIGN Raphael Frisenvænge Solholm
COSTUME DESIGN Rachel Quarmby-Spadaccini
DRAMATURGE Adrian Guo Silver
MUSIC Franz Schubert, Ryoji Ikeda, Giacomo Puccini
COMPUTER PROGRAMMING FOR AI ARTificial Mind & Technical University of Denmark – DTU Compute (Cecilie WF, Asbjørn O, Asbjørn KN, Thomas MJ and Teeratorn K).
DEVELOPMENT The Center for Ballet and the Arts at New York University
CO-PRODUCTION Danish Dance Theatre co-produced with Oriente Occidente, Théâtre National de Chaillot and The Royal Danish Theatre
WITH SUPPORT FROM Augustinus Fonden, Overretssagfører L. Zeuthens Mindelegat, William Demant Fonden, Knud Højgaards Fond, Beckett-Fonden, Jyllands-Postens Fond, Aage og Johanne Louis-Hansens Fond
DURATION 1 hour without intermission
PONTUS LIDBERG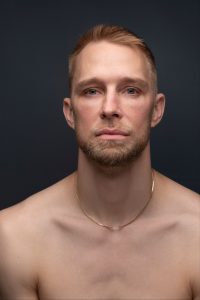 Choreographer, filmmaker, dancer and recipient of a 2019 John Simon Guggenheim Fellowship, Pontus Lidberg has firmly established himself as a creative and visionary artist, merging dance and film. As a choreographer for the stage, Lidberg has created works for dance companies including Paris Opera Ballet, New York City Ballet, Martha Graham Dance Company, Vienna Staatsoper Ballet, Les Ballets de MonteCarlo, Semperoper Ballet Dresden, Royal Swedish Ballet, Royal Danish Ballet, Le Ballet du Grand Théâtre de Genève, Acosta Danza, Balletboyz and Beijing Dance Theatre, as well as for his own concert group, Pontus Lidberg Dance. Pontus Lidberg Dance has been presented by New York City Center's Fall for Dance Festival, the Havana International Ballet Festival, the Spoleto Festival, The Joyce Theater and the National Arts Center of Canada. His work Siren received a Villanueva Award from UNEAC, The National Union of Writers and Artists of Cuba, as one of the best performances presented in Cuba in 2018. His film, The Rain, received numerous awards. The New York Times wrote "memorably, The Rain illustrates what filmed dance can say that staged dance cannot." His film Labyrinth Within won Best Picture at the Dance on Camera Festival in 2012. He was nominated for a New York Dance and Performance Award (Bessie) in Outstanding Visual Design, for his dance and film evening WITHIN – created during his 2012 tenure as Resident Artistic Director of Morphoses. The New York Times applauded this contemporary story ballet, "told without mime and driven by emotional and psychological textures… [Lidberg] sublimates the academic language of ballet, dissolving it into knotty partnering that manages, by and large, to avoid the churning clichés of much contemporary movement in the form. It is refreshing to see a ballet embracing the virtues of restraint." His latest film Written On Water has recently had its premiere with showings at the International Festival of Films on Art (FIFA) in Canada and the Dance on Camera Festival in New York, as well as Cinemateket in Copenhagen. Raised in Stockholm, Sweden, Lidberg trained at the Royal Swedish Ballet School. He holds an MFA in Contemporary Performing Arts from the University of Gothenburg, Faculty of Fine, Applied and Performing Arts. He is the Artistic Director of Danish Dance Theatre in Copenhagen, Denmark.
TRAILER