A queer interpretation of the famous myth.
In Icarus, choreographer Pontus Lidberg daringly inserts a queer heart into classic Greek myths. It is the last part of a trilogy, inspired by liminal beings in Greek mythology who are caught in the paradox of being both human and not human, but also neither. Too human to be animals, but not human enough to be accepted as such, they live outside the bounds of society. The first two parts of the Trilogy, multi award-winning Siren (2018) and Centaur (2020), were based on definitional liminal beings who were born with the physical traits of their hybridity. Icarus, on the other hand, is inspired by a boy who was not born as a liminal being, but died as one.
Many people know Icarus as the youth who flew too high and so plunged to his death. In other words, he failed. Lidberg asks us to see Icarus' tragedy not as a failure, but as a "queer failure," a failure that, by a different logic and in a different world, is also a supreme triumph. Taking on a queer perspective Lidberg forces us to reevaluate what defines and separates success and failure, normal and abnormal: The construction of the wings is a labour of love, but not one that leads to reproduction. Neither are the wings simply an instrument of escape; but rather, in their ultimate unfurling by Icarus as he prepares to take flight, enable a moment of profound beauty. This more commonly moralistic story of failure becomes a story of beauty and triumph in Lidberg's Icarus.
CREDITS AND INFORMATION
WITH Danish Dance Theatre
CHOREOGRAPHY/DIRECTION Pontus Lidberg
DRAMATURGE Adrian Guo Silver
COSTUME DESIGN Rachel Quarmby-Spadaccini
LIGHT AND SET DESIGN Raphael Frisenvænge Solholm
ORIGINAL MUSIC Stefan Levin
ICON IMAGE: Clément Legrand
DURATION  1 hour without intermission
PONTUS LIDBERG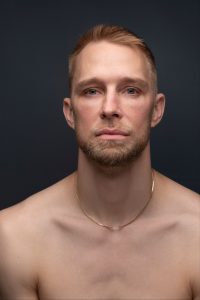 Choreographer, filmmaker, dancer and recipient of a 2019 John Simon Guggenheim Fellowship, Pontus Lidberg has firmly established himself as a creative and visionary artist, merging dance and film. As a choreographer for the stage, Lidberg has created works for dance companies including Paris Opera Ballet, New York City Ballet, Martha Graham Dance Company, Vienna Staatsoper Ballet, Les Ballets de MonteCarlo, Semperoper Ballet Dresden, Royal Swedish Ballet, Royal Danish Ballet, Le Ballet du Grand Théâtre de Genève, Acosta Danza, Balletboyz and Beijing Dance Theatre, as well as for his own concert group, Pontus Lidberg Dance. Pontus Lidberg Dance has been presented by New York City Center's Fall for Dance Festival, the Havana International Ballet Festival, the Spoleto Festival, The Joyce Theater and the National Arts Center of Canada. His work Siren received a Villanueva Award from UNEAC, The National Union of Writers and Artists of Cuba, as one of the best performances presented in Cuba in 2018. His film, The Rain, received numerous awards. The New York Times wrote "memorably, The Rain illustrates what filmed dance can say that staged dance cannot." His film Labyrinth Within won Best Picture at the Dance on Camera Festival in 2012. He was nominated for a New York Dance and Performance Award (Bessie) in Outstanding Visual Design, for his dance and film evening WITHIN – created during his 2012 tenure as Resident Artistic Director of Morphoses. The New York Times applauded this contemporary story ballet, "told without mime and driven by emotional and psychological textures… [Lidberg] sublimates the academic language of ballet, dissolving it into knotty partnering that manages, by and large, to avoid the churning clichés of much contemporary movement in the form. It is refreshing to see a ballet embracing the virtues of restraint." His latest film Written On Water premiered in 2021 with showings at the International Festival of Films on Art (FIFA) in Canada and the Dance on Camera Festival in New York, as well as Cinemateket in Copenhagen. Raised in Stockholm, Sweden, Lidberg trained at the Royal Swedish Ballet School. He holds an MFA in Contemporary Performing Arts from the University of Gothenburg, Faculty of Fine, Applied and Performing Arts. He is the Artistic Director of Danish Dance Theatre in Copenhagen, Denmark.