Ballet chanté by Kurt Weill and Bertolt Brecht. Brecht and Weill's socially critical masterpiece The Seven Deadly Sins unites song, dance, and theatre with accompaniment by the Royal Danish Orchestra. The piece is performed on the Main Stage of the Opera House, where Danish Dance Theatre and the Royal Opera share the stage with artist Nanna Øland Fabricius, aka Oh Land. Staged by Patrick Kinmonth and Pontus Lidberg, the piece treats the topics of greed, anger, lust, and envy in conjunction with some of Weill's most accomplished musical compositions. The Seven Deadly sins is the result of the turbulent and epochal collaboration between Weill and Brecht in the 1920s and 1930s, where the art of theatre flourished in Berlin. In this satirical reinterpretation, Weill's music meets a new choreography by Pontus Lidberg alongside staging and stage design by Patrick Kinmonth.
CREDITS AND INFORMATION
DIRECTOR Patrick Kinmonth
CHOREOGRAPHER Pontus Lidberg
DANCERS Dansk Danseteater
ORCHESTRA The Royal Danish Orchestra
CHORUS The Royal Danish Opera Chorus
CONDUCTOR Robert Houssart
STAGE DESIGN Patrick Kinmonth
COSTUME DESIGN Patrick Kinmonth
LIGHT DESIGN Raphael Frisenvænge Solholm and Mathias Hersland
CAST See the full cast at the Royal Theatre's website
DURATION 2 hours and 15 min incl. one intermission
The piece is presented alongside the world premiere of Louise Alenius' The Manual. The Manual is performed in Danish, and The Seven Deadly Sins in German with Danish subtitles.
PONTUS LIDBERG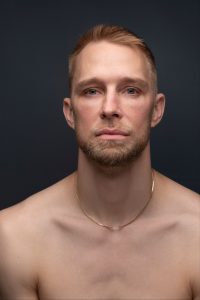 Choreographer, filmmaker, dancer and recipient of a 2019 John Simon Guggenheim Fellowship, Pontus Lidberg has firmly established himself as a creative and visionary artist, merging dance and film. As a choreographer for the stage, Lidberg has created works for dance companies including Paris Opera Ballet, New York City Ballet, Martha Graham Dance Company, Vienna Staatsoper Ballet, Les Ballets de MonteCarlo, Royal Swedish Ballet, Royal Danish Ballet, Le Ballet du Grand Théâtre de Genève, Acosta Danza, Balletboyz and Beijing Dance Theatre. Pontus Lidberg Dance has been presented by New York City Center's Fall for Dance Festival, the Havana International Ballet Festival, the Spoleto Festival, The Joyce Theater and the National Arts Center of Canada. His work Siren received a Villanueva Award from UNEAC, The National Union of Writers and Artists of Cuba, as one of the best performances presented in Cuba in 2018. His film, The Rain, received numerous awards. The New York Times wrote "memorably, The Rain illustrates what filmed dance can say that staged dance cannot." His film Labyrinth Within won Best Picture at the Dance on Camera Festival in 2012. He was nominated for a New York Dance and Performance Award (Bessie) in Outstanding Visual Design, for his dance and film evening WITHIN – created during his 2012 tenure as Resident Artistic Director of Morphoses. The New York Times applauded this contemporary story ballet, "told without mime and driven by emotional and psychological textures… [Lidberg] sublimates the academic language of ballet, dissolving it into knotty partnering that manages, by and large, to avoid the churning clichés of much contemporary movement in the form. It is refreshing to see a ballet embracing the virtues of restraint." His latest film Written On Water has recently premiered with showings at the International Festival of Films on Art (FIFA) in Canada and at the Dance on Camera Festival in New York, as well at Cinemateket in Copenhagen. Raised in Stockholm, Sweden, Lidberg trained at The Royal Swedish Ballet School. He holds an MFA in Contemporary Performing Arts from the University of Gothenburg, Faculty of Fine, Applied and Performing Arts.